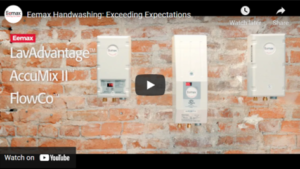 Safe and readily accessible handwashing requires a reliable, efficient, cost-saving solution. At Eemax, we are dedicated to ensuring endless, on-demand hot water for code-compliant handwashing and sanitation to keep your employees and customers safe.
Our handwashing portfolio delivers safe and consistent hot water on demand.
LavAdvantage™
Thermostatic tankless electric water heater with silent operation and an industry leading low flow activation at 0.2 GPM. Learn more.
AccuMix II™
Meets UPC 407.3 for public handwashing with an integrated ASSE 1070 compliant mixing valve. Learn more.
FlowCo™
Non-thermostatic tankless electric water heater. Ideal for a single sensor or metered faucet and other fixed-flow applications. Learn more.