If you've ever wondered if it's time to switch from a storage water heater to an electric tankless one, look no further – we've got you covered. Here is the definitive checklist as to whether you should install a new system in your home: 1. Remodeling or lack of space If your home is undergoing a renovation, receiving additions or just in a need of space, it may very well be time to look at an electric tankless water heater. New legislation from the National Appliance Energy Conservation Act has been set in stone since April 2015, though the effects of it are now beginning to take place. Essentially, storage water heaters will need to undergo multiple changes. An increase in minimum energy factor across all water heaters has taken place, which leaves many storage systems in the dust due to inefficient use. Because the water is heated and stored, rather than heated on demand, it takes more energy than is necessary. The other change accompanying the NAECA regulation update is the switch in size, as most products will now have to be larger. This means homes that have barely enough size for the size in place right now will either need to manufacture more of it or face potential fines down the road. Electric tankless water heaters are easy to install and take up much less space than their storage counterpart. This type of system is ideal for remodeling, or smaller homes that need to make better use of space. 2. High water heating bills As mentioned before, electric tankless water heaters tend to have high energy factors – usually 99 percent. This is due to them having on-demand response, which warms water as it passes through the thermo optical sensors rather than keeping a heavy supply of tepid water. But, the Department of Energy reported that simply switching to a tankless water heater doesn't necessarily equate to a more affordable utility bill – it depends on the fuel source. According to the Massachusetts Executive Office of Energy and Environmental Affairs, electricity is regularly priced lower than gas. So, even switching to a gas tankless water heater wouldn't necessarily bring a vast improvement. If you have regularly high water heating bills that you want to shave down, the upfront cost of an electric tankless water heater will yield a return on investment over time that matches it, as homeowners can instantly save at the minimum $100 a year on their bill, according to the DOE. Depending on use and the infrastructure of you home, you could even save more.
3. Need a boost Electric tankless water heaters are great at boosting the point-of-use. If you find that it takes longer than it should to get warm water to an upstairs bathroom or a guest room, it makes more sense to attach a water heater like the AutoBooster under the sink. Point-of-use water heaters are small and can fit anywhere. They provide instant access to warm water, as well as cut down on heating bills. This is because the warm water doesn't have to travel as far as it used to from the point of origin, meaning less energy is used altogether. 4. Looking for longevity When it comes down to it, if you spend money on a product, you expect it to last a while. According to the DOE, electric tankless water heaters can be expected to have a lifetime of 20 to 25 years. For many homeowners, this will mean lasting until the house is sold. Storage water heaters, on the other hand, have a longevity of just 10 to 15 years. This is due to standing water corroding the internal structure at a quicker rate. If a homeowner doesn't change the anode rod regularly, this timeline could speed up considerably. It isn't necessarily a knock on storage water heaters that they don't last as long – it's just the way they're built. But, if you're looking to make one final water heater purchase for your home, it would make sense to go with the system that lasts on average nearly 10 years longer than its counterpart.
---
Eemax Home Advantage II – Residential Electric Tankless Water Heaters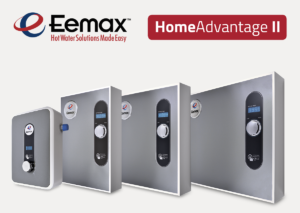 With the HomeAdvantage II you can bring home all of the performance and quality that have made Eemax tankless water heaters the proven choice for specifiers and plumbing professionals around the world.