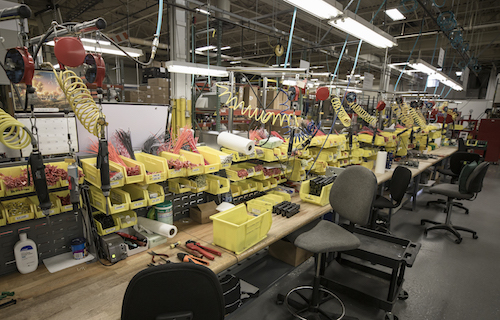 As the world closely monitors the coronavirus pandemic, the health and safety of our employees and their families, as well as our customers and business partners, remains Eemax's top priority.


Our leadership team is committed to taking steps to mitigate risks to our team, our families and our customers while maintaining as much of a professional and composed atmosphere as possible, while recognizing the essential role our company plays in protecting public health and keeping Americans safe.


Recently, the President and U.S. Department of Homeland Security (DHS) issued a Coronavirus Guidance for America identifying plumbers as "essential critical infrastructure workers" as our nation responds to the threat of COVID-19. As a manufacturer of essential goods and services, we take this responsibility very seriously and are taking every precautionary safety and sanitization measure to ensure continued operations.


Eemax is an essential business. The water heating equipment we make is vital for health and safety, particularly for water heating, cleaning and disinfecting homes, food and medical sanitation, handwashing, as well as emergency eye and drench showers for oil, gas and chemical industries as well as our military. Without hot water, people are less likely to wash their hands for a minimum of (20) seconds.  These products are applied in various settings critical to helping combat the further spread of COVID-19 including, home residences, multifamily residential buildings, hospitals, critical care facilities, geriatric residential facilities, rehabilitation facilities, government buildings, military installations, manufacturing facilities, and food & agricultural service wash-downs. Without water heating equipment to disinfect and facilitate proper hygiene, Americans, and our front-line health care providers, will be at further risk. https://portal.ct.gov/DECD/Content/Coronavirus-for-Businesses/Coronavirus-for-Businesses


As such, all Eemax operations remain open for business. We have also confirmed that our downstream business partners, including freight and logistics companies, wholesale and retail distributors, plumbers and contractors who install and repair our equipment also continue to operate.


As a critical partner to our business, we know you have questions. Therefore, we'd like to inform you of the actions we are taking to protect our people and production.


Safeguarding our People and Operations: To protect our people and operations, we shifted all non-production focused teams to a remote work model and suspended all outside visitors to our Eemax facilities. Our facility is being sanitized and deep cleaned regularly, and we are implementing social distancing protocols.


Work From Home: We have shifted our customer and field support teams to a remote model with no disruption to you. We are embracing the many technology tools available to us to continue our day-to-day business operations and customer interactions. Our customer support teams are actively monitoring the phone lines and are here to assist you.


Suspending Travel: Until further notice, we suspended all employee domestic and international travel. Our team will conduct business using all available technology options.


Cancelling In-Person Training: Additionally, out of concern for the safety of our customer and staff, all trainings in the field and at our Innovation Learning Centers have been cancelled through April 20. We will post further updates via social media.


Digital Training: We will offer web-based training and CEU accredited classes. Contact your local sales manager for information and scheduling. We encourage you to take advantage of our curriculum.


Ensuring Ongoing Supply: Our supply chain team is working diligently to reduce any disruptions to our production. Our vendors are also deemed essential, and are open for business. We are continuing to manufacture and processing orders to support your business.


We are committed to working with you and your colleagues, to ensure hot water generation equipment is available for all Americans during and after this health crisis. Stay safe and know that we are here to help.


Thank you for your continued focus, commitment and support during this time. We are all in this together!


Take care!
| | | |
| --- | --- | --- |
| | | |
| Jens Bolleyer | | Bill Dahlin |
| VP&GM | | Sr. Director of Sales |