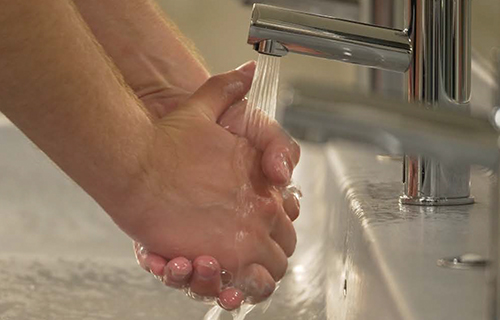 As the COVID-19 pandemic continues to evolve, frequent and thorough handwashing is critical to prevent the spread of the virus. The Centers for Disease Control and Prevention (CDC) recommends handwashing with soap and water for at least 20 seconds after visiting a public place or after blowing your nose, coughing, or sneezing. As shelter-at-home orders wane and Americans slowly return to work, school, restaurants, stores and other populated places in the coming months, the demand for more easily accessible handwashing opportunities will be paramount.

Food service businesses are already starting to implement handwashing opportunities outside of the public restroom. A popular restaurant chain announced that locations that are serving through the drive-through are now equipped with outdoor handwashing stations for team members to frequently wash their hands. It's only a matter of time before more businesses follow suit.

Eemax, a manufacturer of tankless electric water heaters, has already seen an increased demand for its point-of-use handwashing units, electric Mini Tanks, and other product lines for use in portable handwashing stations at field hospitals in the fight against COVID-19.

"We are seeing portable handwashing stations, of all different designs, proliferate as a result of the pandemic," explains Eemax Senior Director of Sales Bill Dahlin. "We are shipping Eemax water heaters to multiple locations, across the nation, to be used for mobile handwashing carts. They've been used at field hospitals at the Javits Center in New York City as well as McCormick Place in Chicago, just to name a few."

Eemax has also been supplying its water heaters to distributors and mechanical engineering and construction firms for use in their portable handwashing stations. One such product is the Eemax electric Mini Tank, an electric miniature water heater (available in 1, 2.5, 4 and 6-gallon models), which provides warm water for handwashing. Eemax is currently prioritizing its manufacturing to fill healthcare-related orders as soon as possible and is expediting shipments for those requests.

Eemax Handwashing Solutions for Public Spaces Evolve Over the Decades

The first Eemax product, the patented 9.5 kW Series One, was developed in 1989 as a simple on/off device for handwashing applications. Fast forward to the present and Eemax has developed a complete handwashing family, comprised of three product lines, including the following:

LavAdvantage™: A thermostatic tankless electric water heater with an industry-leading low flow activation of 0.2 GPM for handwashing applications, including multiple sensor or metering faucets.
AccuMix II™: Thermostatic tankless electric water heaters which meet UPC 407.3 for public handwashing with an integrated ASSE 1070 compliant mixing valve for single and multi-lavatory sinks.
FlowCo™: A non-thermostatic tankless electric water heater, ideal for single sensor or metered faucet and other fixed flow applications.


All models in the Eemax handwashing suite feature the following:
On-demand, endless hot water with no storage capacity to deplete
Ability to mount in any orientation
Compact size suitable for ADA compliance
SafeStart Technology, which engages upon start-up to help avoid dry-fire occurrence
Educating the Industry about Handwashing and its Impact on Global Health
Eemax is supporting the understanding of handwashing's critical role to ensuring both individual and global health, wellness, and safety that is now being spurred by COVID-19, with its continuing education unit: "The Importance of Effective Handwashing and Its Impact on Global Health." Eemax began hosting a series of live webinars for this course in March and will continue through June. This course is accredited by the American Society of Plumbing Engineers (ASPE), the American Institute of Architects (AIA), and Green Business Certification Inc. (GBCI).

The widely attended webinar explores code-compliant public handwashing solutions as they relate to the architect and plumbing engineer. Course content includes public health agency guidelines specific to handwashing and its effects on health, as well as how water temperature can impact—both positively and negatively—the health efficacy of handwashing. The course also educated participants about traditional versus tankless electric water heating solutions and which are best suited for handwashing.

"There couldn't be a better time to educate plumbing engineers and specifiers about the importance of handwashing," says Dahlin. "Public handwashing will be a popular topic in the coming months. Tankless electric water heaters are ideal for this application because they provide on-demand warm water at the point-of-use without the need for recirculation loops and other costly installs."