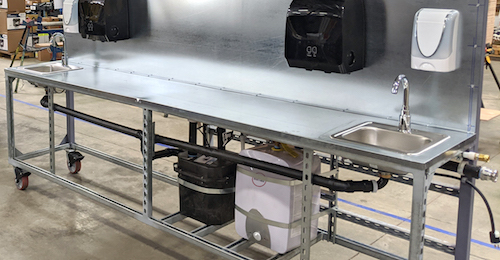 American need to wash their hands, now more than ever. Eemax, a leading manufacturer of water heating solutions for over 30 years, has received record orders from across the United States for their miniature tank water heater. MiniTank is a compact water heater (available in 1, 2.5, 4 and 6-gallon models), which is being implemented in a variety of mobile handwashing stations, which provide social distancing friendly handwashing at traditional and makeshift hospitals across the country in the fight against COVID-19.
A shipment of EMT6 were recently installed in portable handwashing stations at the makeshift hospital at the Jacob B. Javits Convention Center in NYC, NY this week.
Eemax sent a shipment of EMT4 to UMC, a mechanical engineering and construction company in Washington for use in their touch-free wash stations. The touch-free wash stations have solved an immediate need during the COVID-19 pandemic for mobile handwashing solutions. The stations feature 2 or 4 sinks basins, each equipped with a touch-free faucet, soap dispenser and comfortable, warm water for handwashing. The sinks are spaced 6 ft. apart to meet social distancing requirements. The 2-sink version can accommodate up to 120 washes per hour and the 4-sink version up to 240 washes per hour. 
These customizable, mobile stations meet the increasing necessity for functional wash stations for makeshift hospitals, testing sites, homeless shelters, grocery stores, industrial plants, construction sites, restaurants, retailers and schools.
Additionally, Eemax is supplying EMT4s to plumbing supply houses who've been busy manufacturing mobile handwashing units to sell to their customers. Ace Plumbing, Heating & Electrical Supplies, Inc. in Vineland, NJ has rolled out the Aceco Porta-Wash Station, which is a portable unit featuring a GFI-protected EMT4. Standard features include a stainless steel sink, two handle faucet, piped drain, gallon bottle, pump bracket, all fully assembled and ready to use. They also offer a model with a drain pump and garden hose adapter, as well as a model with a two handle faucet with an eyewash station. The Aceco Porta-Wash Stations are being used at job sites to keep employees following CDC guidelines for increased handwashing. The Eemax EMT 4 easily attaches to a hose or external water supply and requires a power source for operation.
While Eemax continues to provide convenient and energy efficient hot water solutions for many in need, the hard working Eemax team is following the CDC guidelines in their facility and community, and like all the vital service providers, deserve a shout -out.
About Eemax, Inc.
Eemax is leading the evolution of hot water with cutting-edge technology that provides consistent hot water. It is our mission to drive the progression of efficiency maximized by developing advanced tankless electric hot water heating solutions. We are empowering professionals with trusted and versatile products that can accommodate a multitude of installation scenarios. Today, Eemax products are delivering energy-efficient hot water for restaurants, schools, manufacturing facilities, commercial restrooms, laundries, breweries, medical facilities, and more. Wherever hot water is needed—Eemax has the solutions—making us America's #1 choice for tankless electric water heaters.