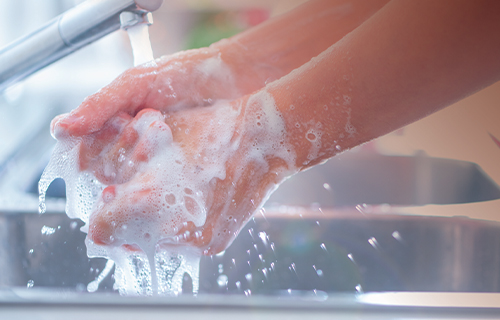 Waterbury, CT (JUNE 2020) — Everywhere we turn, there is a notice to wash our hands, and usually with hand sanitizer nearby. But what is in these hand sanitizers and are they causing more harm than good?



According to a recent World Health Organization report,1 an obsession with germ-killing has resulted in antibiotic-resistant bacteria in every corner of the globe, and can be attributed to the overuse of antibiotics and hand sanitizer. Triclosan, a common active ingredient found in hand sanitizers, may lead to the development of antibiotic-resistant bacteria. A 2011 study by the Epidemic Intelligence Service at the U.S. Centers for Disease Control and Prevention found that healthcare employees who used hand sanitizer, instead of routine handwashing with soap and water, were nearly six times more at risk for outbreaks of norovirus.2 There are other concerns related to hand sanitizer, including the body's absorption of harmful BPA, dangerous phthalates, and parabens. Hand sanitizer usage is also associated with allergy development in young children.3
Then, there's the issue of effectiveness. Which method is best to get rid of germs: handwashing with soap and water or hand sanitizer? The CDC4 recommends washing hands with soap and water whenever possible because handwashing reduces all types of germs and contaminants. Soap and water is also more effective than hand sanitizers at removing certain germs, like Cryptosporidium, norovirus, and Clostridium difficile.
Although alcohol-based hand sanitizers can inactivate many types of microbes when used correctly, people may not use enough of the sanitizers or may wipe it off before it has dried. The CDC also states that hand sanitizers may not work well when hands are heavily soiled or greasy. Handwashing with soap and water is always recommended for these circumstances.
According to the New York Times, "People typically think of soap as gentle and soothing, but from the perspective of microorganisms, it is often extremely destructive. A drop of ordinary soap diluted in water is sufficient to rupture and kill many types of bacteria and viruses, including the new coronavirus currently circling the globe."5 The same article reports, "On the whole, hand sanitizers are not as reliable as soap. Sanitizers with at least 60 percent ethanol do act similarly, defeating bacteria and viruses by destabilizing their lipid membranes. But they cannot easily remove microorganisms from the skin. There are also viruses that do not depend on lipid membranes to infect cells, as well as bacteria that protect their delicate membranes with sturdy shields of protein and sugar. Examples include bacteria that can cause meningitis, pneumonia, diarrhea and skin infections, as well as the hepatitis A virus, poliovirus, rhinoviruses and adenoviruses (frequent causes of the common cold). But vigorous scrubbing with soap and water can still expunge these microbes from the skin, which is partly why handwashing is more effective than sanitizer."
The need for access to more public handwashing opportunities, both inside and outside of the public restroom, is paramount. Eemax, a manufacturer of tankless electric water heaters, is committed to providing endless, on-demand warm water for comfortable and effective handwashing. Eemax is currently working with businesses across the United States to install handwashing facilities in new and unexpected places.
Eemax Handwashing Portfolio:
LavAdvantage™: Thermostatic tankless electric water heater with a flow activation of 0.2 GPM for multiple sensor or metering faucets.
AccuMix II™: Thermostatic tankless electric water heater with integrated ASSE 1070-rated mixing valve for code-compliant handwashing.
FlowCo™: Non-thermostatic tankless electric water heater for single sensor or metered faucets.
The Eemax continuing education course, 'The Importance of Effective Handwashing and its Impact on Global Health,' empowers trade professionals with code-compliant handwashing solutions, public health agency guidelines, and regulatory statutes. Participants will learn how hot water can impact the health efficacy of handwashing and the barriers to effective handwashing, including location, equipment, temperature, water volume and flow.


About Eemax, Inc.
Eemax is leading the evolution of hot water with cutting-edge technology that provides consistent hot water. It is our mission to drive the progression of efficiency maximized by developing advanced tankless electric hot water heating solutions. We are empowering professionals with trusted and versatile products that can accommodate a multitude of installation scenarios. Today, Eemax products are delivering energy-efficient hot water for restaurants, schools, manufacturing facilities, commercial restrooms, laundries, breweries, medical facilities, and more. Wherever hot water is needed—Eemax has the solutions.


---

1 WHO: WHO's First Global Report on Antibiotic Resistance Reveals Serious, Worldwide Threat to Public Health:
https://www.who.int/mediacentre/news/releases/2014/amr-report/en/
2 Hand Sanitizers May Increase Norovirus Risk: https://www.ncbi.nlm.nih.gov/pmc/articles/PMC3168661/
3 Time: Can Overuse of Antibacterial Soap Cause Allergies in Kids? https://healthland.time.com/2010/12/03/canoveruse-
of-antibiotic-soap-promote-allergies-in-kids/
4 CDC: Show Me The Science: When & How to Use Hand Sanitizer in Community Settings:
https://www.cdc.gov/handwashing/show-me-the-science-hand-sanitizer.html
5 New York Times: Why Soap Works, March 13, 2020: https://www.nytimes.com/2020/03/13/health/soap-coronavirus-handwashing-germs.html