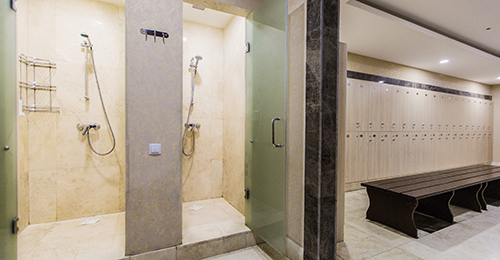 Waterbury, CT (January 2020) — Health clubs and gyms expect to use hundreds or even thousands of gallons of hot water a day providing the services their customers need. Health clubs often pay staggering utility bills to cover operating costs, including heating water for pools, showers, laundry facilities, janitorial tasks, and more.
Eemax, America's #1 choice for tankless electric water heaters, offers customized solutions for gyms and health clubs based on their peak demand, interior layout, and geographic location. Instead of having a couple of massive, bulky tank heaters taking up space in a mechanical room and then having hot water lose temperature as it travels through many feet of piping, Eemax tankless electric water heaters provide endless hot water at the point-of-use. Tankless electric water heaters are 90% smaller than tanks, yet have the power to provide consistent, hot water to an entire gym. Furthermore, there's no need to factor in hot water storage requirements because water is heated on-demand, eliminating stand-by heat loss.
"Eemax has been at the forefront of  sustainability for over 30 years," says Jens Bolleyer, Eemax VP and General Manager. "Our tankless electric water heaters feature innovative technology, delivering enhanced energy efficiency and making them an ideal choice for gyms and health clubs looking to implement eco-friendly solutions that align with their patrons' focus on health and wellness."
ProSeries™ tankless electric water heaters service buildings with 240 volt power and water requirements of up to 8 GPM. The ProSeries is available in 8 kW to 36 kW sizes to accommodate anything from a single sink to multiple showers, depending on inlet water temperature.
When three phase power (208V, 480V) is available, gyms can install the more robust ProSeries XTP™ to meet their hot water needs. A thermostatic water heater for commercial applications, ProSeries XTP was designed for specified flow rates from 0.5 to 20 GPM at temperatures of up to 180°F. It's the ideal tankless unit for shower facilities,  mop sinks, water dispensers and sanitation.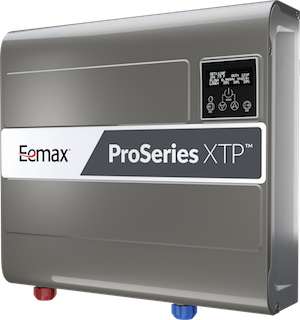 ProSeries XTP models provide eXact Thermal Performance™ in demanding conditions. Designed with Adaptive Stability Technology™ (AST), ProSeries XTP assesses heater conditions and shifts unit operation, ensuring a consistent and reliable output. SafeStart™ technology engages upon start-up to help avoid dry-fire occurrence. Self-diagnostics with intelligent controls actively protect the heater in the installed environment. ProSeries XTP saves energy and eliminates stand-by heat loss by activating only on demand. ProSeries XTP is compact in size and ready to install right out of the box. A single person can position, mount, and lock the heater into place with a custom wall-mounting bracket. This simplifies heater installation without occupying valuable floor space.
LavAdvantage™ thermostatic tankless electric water heaters feature an industry-leading flow activation of 0.2 GPM for handwashing applications, including multiple sensor or metering faucets where precise temperature control is required. LavAdvantage can be installed at the point-of-use to eliminate long pipe runs and can be mounted in any direction to optimize floor space and is ADA compliant.
About Eemax, Inc.
Eemax is leading the evolution of hot water with cutting-edge technology that provides consistent hot water. It is our mission to drive the progression of efficiency maximized by developing advanced tankless electric hot water heating solutions. We are empowering professionals with trusted and versatile products that can accommodate a multitude of installation scenarios. Today, Eemax products are delivering energy-efficient hot water for restaurants, schools, manufacturing facilities, commercial restrooms, laundries, breweries, medical facilities, and more. Wherever hot water is needed—Eemax has the solutions—making us America's #1 choice for tankless electric water heaters.