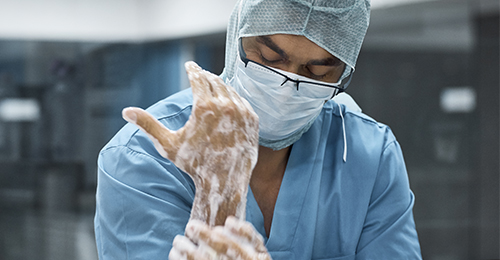 Waterbury, CT (January 2020) — Eemax has been evolving hot water for decades with their dependable line of tankless electric water heaters, ideal for the rigorous demands of the healthcare industry. From sanitizing instruments and medical devices to showers, handwashing, eyewash stations and sanitation, Eemax provides a hot water solution for every healthcare application.
The Eemax handwashing product portfolio, comprised of LavAdvantage™, AccuMix II™, and FlowCo™ helps prevent the spread of infection in hospital settings thanks to its groundbreaking technology, which enhances the efficiency of handwashing procedures.
According to CDC data, approximately one in 25 patients acquires a healthcare-associated infection (HAI) during their hospital care, adding up to about 722,000 infections a year. Of these, 75,000 patients die of their infections. CDC Director Thomas Frieden, MD, MPH, said even the most advanced healthcare will not work if clinicians neglect basic practices such as hand hygiene.
LavAdvantage thermostatic tankless electric water heaters feature an industry-leading flow activation of just 0.2 GPM for handwashing applications, including multiple sensor or metering faucets.
LavAdvantage can also be used for eyewash stations, which are typically found where cleaning chemicals are mixed (housekeeping areas), where plant operations take place, and in kitchens, generator rooms, environmental services storage rooms for battery-operated floor scrubbers, in-house laundries, dialysis mixing rooms, and laboratories.  
The AccuMix II line of tankless electric water heaters meets code-compliant public handwashing standards and features an integrated ASSE 1070 compliant mixing valve for single and multi-lavatory sinks.
FlowCo is a non-thermostatic tankless electric water heater, ideal for single sensor or metered faucet and other fixed flow applications.
All models feature on-demand, endless hot water, no storage capacity to deplete, are compact in size for ADA compliancy, mount in any orientation and feature SafeStart™ Technology, which engages upon start-up to avoid dry-fire occurrence. Their control systems activate the heater on-demand for enhanced energy efficiency and savings.  
ProSeries XTP™ – The Full Hot Water Solution for Healthcare Facilities
Hospitals are among the biggest energy consumers in the United States. Given the sheer size of these facilities, hot water is used for a variety of applications, and the ProSeries XTP is the tankless electric water heater to get the job done when large quantities of hot water are needed. Perfect for large-scale sanitation requirements, the ProSeries XTP can accommodate jobs with water requirements of up to 20 GPM and temperature requirements up to 180 degrees Fahrenheit. The ProSeries XTP features Adaptive Stability Technology™, which assesses the heater condition and shifts unit operation to ensure a consistent and reliable output. It is powerful enough to tackle washdown processes, commercial kitchens, utility and mop sinks, dishwashers, and large handwashing requirements. It boasts a compact size and precise temperature control and requires only one input water line and an electrical connection for installation.


About Eemax, Inc.
Eemax is leading the evolution of hot water with cutting-edge technology that provides consistent hot water.  It is our mission to drive the progression of efficiency maximized by developing advanced tankless electric water heating solutions. We are empowering professionals with trusted and versatile products that can accommodate a multitude of installation scenarios. Today, Eemax products are delivering energy-efficient hot water for restaurants, schools, manufacturing facilities, commercial restrooms, laundries, breweries, medical facilities, and more. Wherever hot water is needed—Eemax has the solutions—making us America's #1 choice for tankless electric water heaters.